FAQ
What is Book Lending? Certain books from Amazon and Barnes and Noble are flagged Lending Enabled when you buy them online if you have a USA based account. When you have an email address of a friend or member of our service you can lend these books out. Books can only be loaned for up to 14 days. At the end of the 14 days the book is returned to the original owner. When books you own are lent out, you cannot read them until they are returned. Books can be returned early when a user deletes them from their device. When you lend a book to someone on our service they have up to 7 days to accept your request, if they lose the borrowing privilege.
Does it cost anything? No, our service is now 100% Free! You can borrow and lend books without any types of limits.
Do you reward book lenders? We award book lenders with special achivements and rewards for taking part in the process.
How do I register an Account? If you are an existing Facebook or Twitter account owner you can use our one click register buttons underneath the main registration field on the right hand corner of every page on our website. You can also manually register and give us basic details. We recommend all users edit their profiles and pick what kind of e-reader you own. This will help with other users being able to lend you books better.
How does Kindle Lending Work? Eligible Kindle books can be loaned once for a period of 14 days. The borrower does not need to own a Kindle -- Kindle books can also be read using our free Kindle reading applications for PC, Mac, iPad, iPhone, BlackBerry, and Android devices. Not all books are lendable -- it is up to the publisher or rights holder to determine which titles are eligible for lending. While a book is on loan, the lender will not be able to read the book.

In order to lend a Kindle book you must have a USA based account or an account with a USA based address. You can borrow a Kindle book from anywhere in the world. The USA based restriction is only for the book owners, not the book borrowers.

Learn more about Lending Kindle Books.
How can I lend a Kindle Book if I live outside the USA?In order to lend books you must have an Amazon account registered in the USA. Non-USA customers will need to make an address in MY ACCOUNT and use a USA address. You then want to flag that address as being your primary one associated with your account. You also want to use your shipping address as the same USA address. Many users use friends or family living in the USA or other ones. We will leave it to you to decide the address you want to use.

When you register a USA billing and shipping address and browse for books you will notice in the book properties if it is lending enabled. In order to make sure a book is lending enabled you can click on this example HERE. If you scroll down the page a bit you will notice "Product Details" It will say Format, File Size, Sold By, Language, ASIN, and then "Lending Enabled" you can then buy the book and lend it out. In the future any books you want to buy and lend on Lendingebook.com make sure it is flagged "Lending Enabled"
Can I borrow a book if i live outside the USA? Customers with any Amazon account using any device that has an Amazon App can borrow books. The only GEO-Restrictions are only to lend.
How Does Nook Lending Work? You can lend an eligible title once to any of your friends or family from your Library, nook or eReader. Once the loan period is up, or if they return it sooner, you can read it again. When someone from Lending eBook decides to lend you a book you will receive an email letting you know. You can lend and borrow NOOKbooks purchased on BN.com and read them on your iPad, iPhone/iPod Touch, Android, Blackberry, PC, Mac, or other compatible device. Any book that can be lent will have the Nook Lending Icon next to it.
How to Lend a Nook Book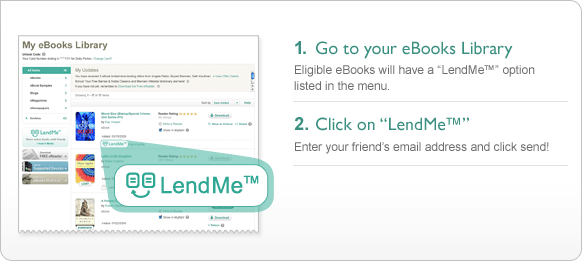 How do I List a book with you guys? Make sure you are logged into the website via Facebook or Twitter Connect. Alternatively you can manually create an account by clicking on SIGN UP. When you register you will notice a side bar menu with many options. You want to click on Lend a Book and then select from a number of options.

You can select different lending options such as ISBN with Amazon or Author or Book Name! You also want on the second drop down field if the book you are lending is a Kindle or Nook Book. The 3rd search bar is the authors name, book name or ISBN number. ISBN right now only works with Amazon Books. You can click on Search and then you will see your book appear if it is flagged lending enabled by either Barnes and Noble or Amazon.

Click on I OWN THIS BOOK and that book will now appear in your MY LIBRARY. If someone wants to borrow the book you will see a red flag appear. When it does you can click on the book cover and it will open the book up. You will see many options and book information. There will be an option to LEND THIS BOOK. Click on that and you will see new information, on the left hand side you will see the Email address, along with instructions on how to lend the book. It is the email address on this page that belongs to the person who wants to borrow the book. Use this email address with either Nook or Kindle Lending and they will have 7 days to accept the book and 14 days to return it.
How do I borrow a book? Borrowing books is fairly easy and straight forward. You have to first login to our website via Facebook or Twitter Connect. You can also manually register an account. Once your all registered you can click on the Borrow a Book tab. By default all of the recent books added to our service will be listed but you can make more refined searches. You can look for a book to borrow by Author, Title, ASIN/ISBN, Genre and Book Type. Book type is important because it gives you options to search by Barnes and Noble or Amazon eBooks.
Once you refine your search for your favorite author or book you can search our service for it. If one of our lenders has this available you can put in a request for it. You might notice the Borrow (number) button. This shows you how many people currently have a request for this book. Normally many people have copies of this book so do not be afraid if the number is high.
When you click on the borrow button it flags the owners book with a red flag. This makes the book owner aware that someone wants to borrow their book. Once they send you the book you will receive an automatic email letting you know the book has been sent over. Sometimes once you put in a request it could take a few hours or days for the lender to send you the book. So if it takes a little bit of time, please excercise some patience.
How is a book returned? When you are done reading a book that you borrowed from a user you can click on MY LIBRARY and then click on the book you borrowed. You will have an option to Flag Book as Returned. You will then let the owner know you are done with the book. When you return the book you can leave Feedback for the owner on your experience. Feedback helps the commiunity know who the good lenders and borrowers are. If you forget to flag the book as returned the owner will automatically know its returned after 14 days.
How do I delete a book from my device? In order to properly flag a book as returned or get a book that is unreaable on your device you can login to Amazon or Barnes and Noble and delete the book.

With Amazon you can login to Amazon.com and click on My Account, then click on View my Kindle Orders. Select the book you want to delete and click on Actions. You can then select Delete Book and the book will be returned to the owner.
What ISBN number do i use for Amazon or Nook Books? Since 2007 new books use the 13 digit ISBN-13 format for nook books, if you look up a book in our system it uses the 13 digital ISBN format. When you lend a book select the ISBN number and either use the Amazon ASIN or the ISBN-13 for Barnes and Noble.
How do I delete a Book from my shelf If you added the wrong book by mistake or just wan't to delete the book you can click on the MY LIBRARY tab and then click on the book cover of the book. This will open the book up and you will see a delete option, once you delete it, it is gone from your shelf.
How do email addresses work with Lending eBook? We do not keep a record of email addresses or the email addressses associated with your Barnes and Noble or Amazon account. The only time your email address is visible is when you are going to lend a book to someone and they have flagged a book you own as a book they want to borrow. When you go through the borrowing motions you will see their email address assocaited with their account. It is THIS email address that you will send the the book they want to borrow.
What are the Achievements? We give rewards to our members for a myriad of reasons! You can earn custom Achievements for Reading, Lending and Borrowing books! We also give special rewards just for logging into the website on specific occasions such as Halloween, New Years, and other Holidays.
I am an author, can I sell my book? Yes! We have rolled out a new system that allows you to OPT IN to being an author! You can then sell your book for as much or as little as you want. We take NO fees from letting you do this, it is a 100% free service. You sell a book for $1.00 and you get $1.00!
Can I chat with other members? We rolled out a new featuer that allows users to talk in real time with each other. Once you register and login to our website you can chat with any users online. Take the first step and chat about new authors, new books and whatever you want.
Total Books 2751
Loaned Books 178
Available For Loan 2573